Thorough explanation of how to install and use ERESA extensions!
ERESA has an extension for Google Chrome.
The system is mainly used on PCs, but it displays a variety of data on Amazon, making research and analysis much more efficient.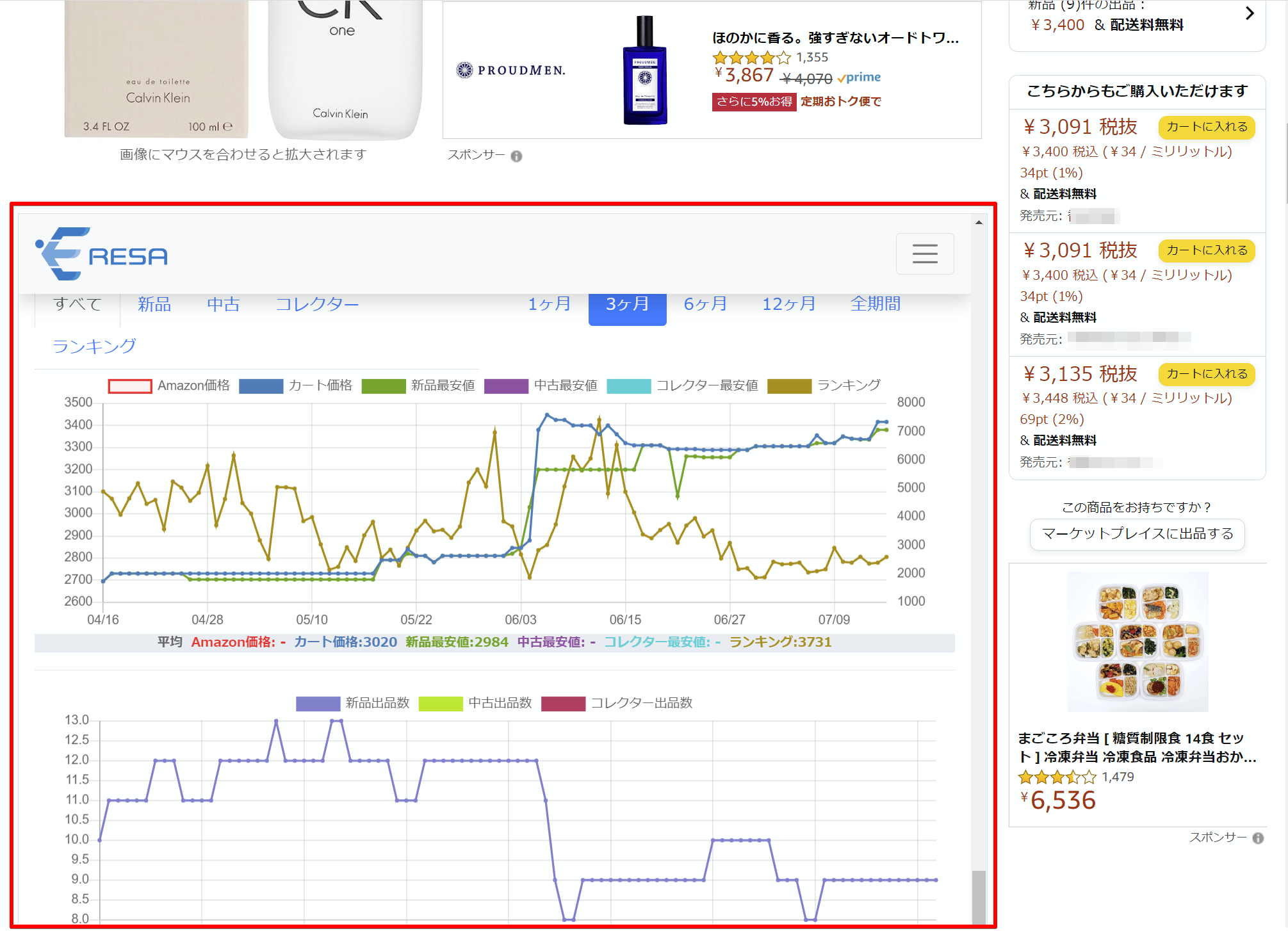 This article explains how to install and use the software.
How to Install ERESA Extensions
Please register as a member of ERESA.
You must be a registered member of ERESA and logged in before using the extension. If you have not yet done so, please go to the following page.
Install Google Chrome or Microsoft Edge (Chromium).
*Other browsers (BRAVE, etc.) can also be used.
Access the Chrome Web Store and install the extension.
ERESA for Chrome (Extensions)
Functions on the search results screen
■Function #1: Display of Keepa mini-graph & one-click button on the search results screen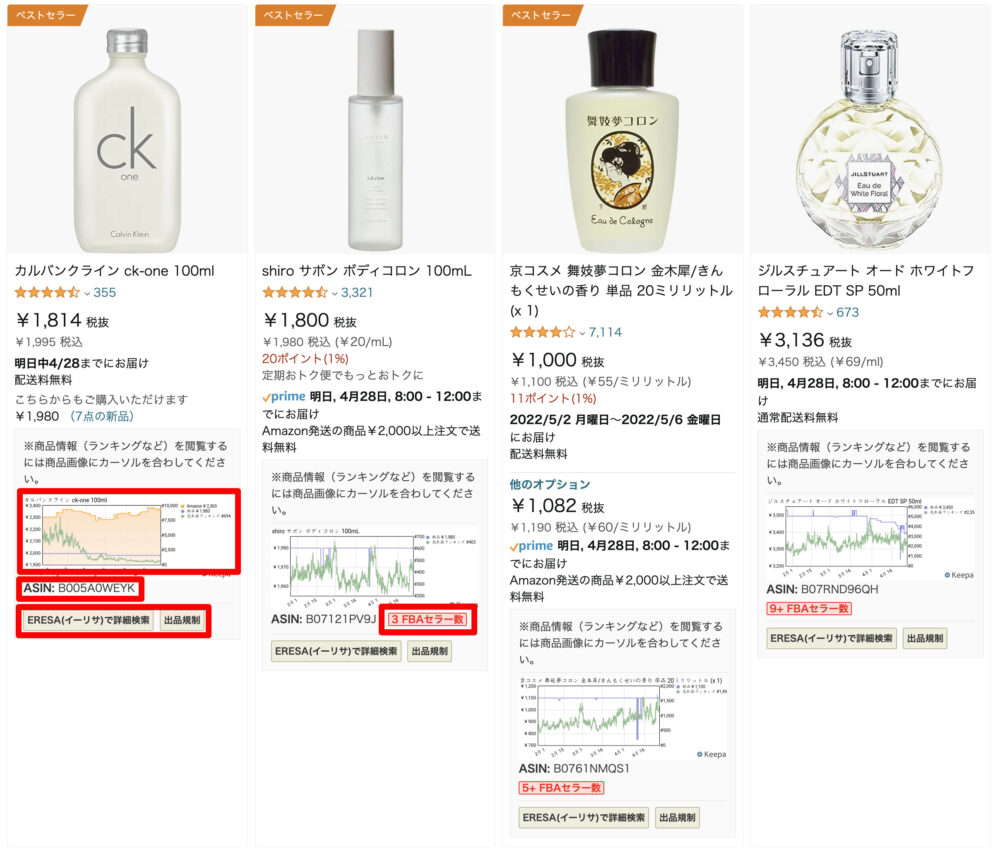 Regarding the displayed items in the search results:
Mini-graphs of the paid version of Keepa (originally paid graphs are available for free)
ASIN code (can be copied with one click)
Number of FBA sellers (click to view list of sellers)
Buttons to access ERESA web version, etc.
Function #2: Display of product details on mouse-over of product image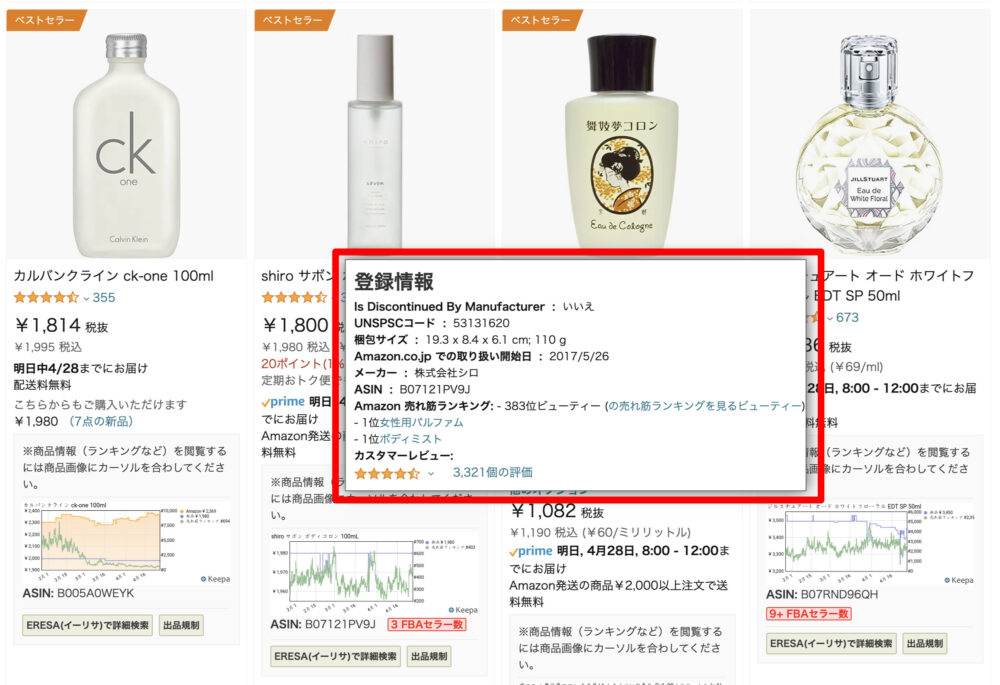 Mouse over the product image (hover the mouse pointer over the object) and detailed product information will appear in a pop-up window.
This function can be turned off from the settings.
About the function of the product detail screen
Function #1: One-click icon on the product title to go to ERESA.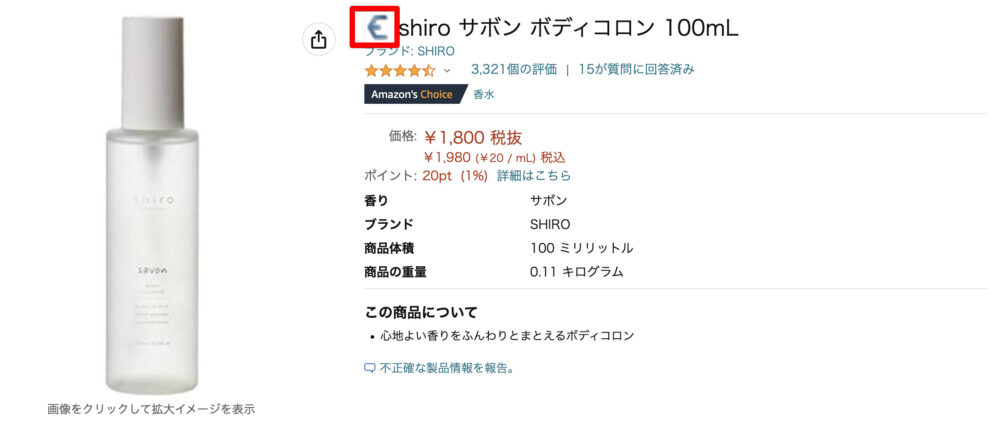 ■Function #2: Display of detailed ERESA information (price, ranking history charts, etc.) on Amazon.co.jp product pages
You can view the ERESA Web Edition information in real time on amazon.co.jp without accessing the ERESA Web Edition.
*Please log in to ERESA in advance to use the service.
■Function No.3: Display of inventory numbers on Amazon.co.jp product pages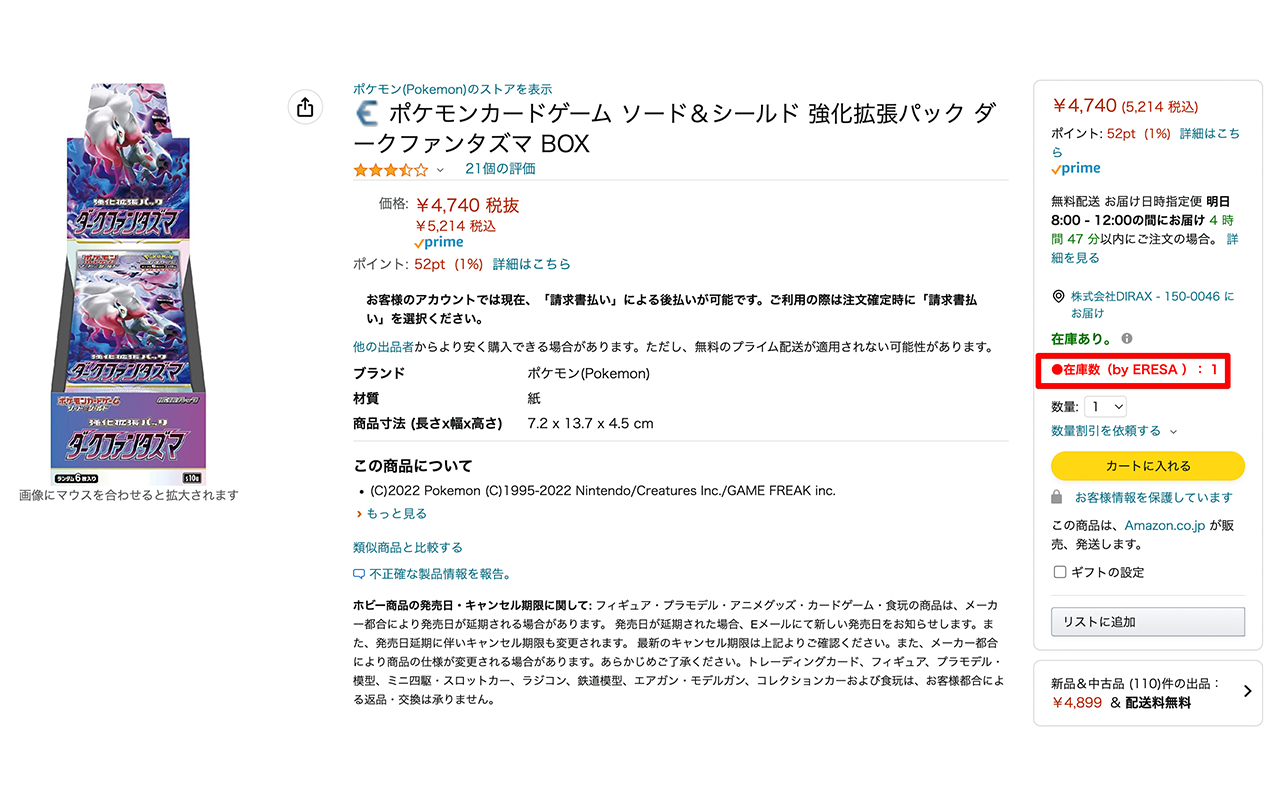 Displays inventory counts (up to 30 items supported) for cart box acquirers and other sellers.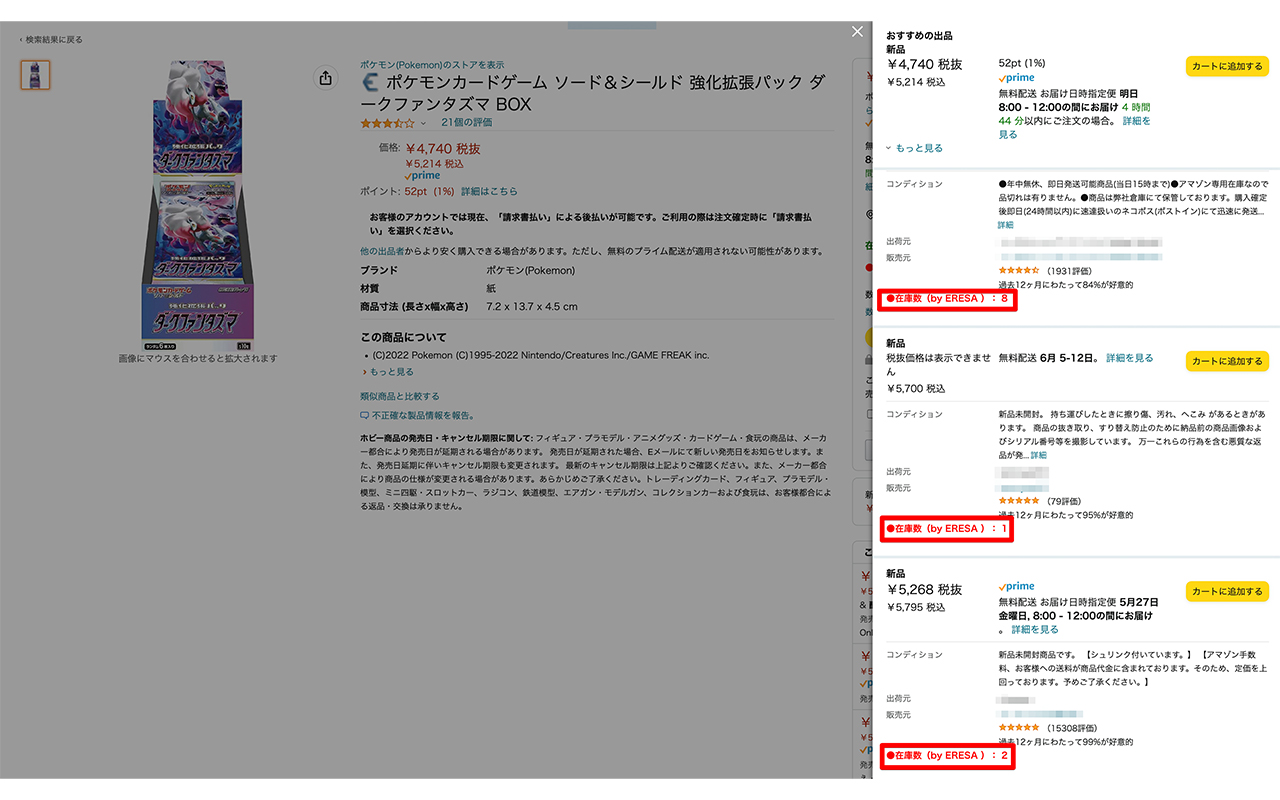 For features common to other sites
■Function #1: Select a sentence and right-click to search the ERESA web version.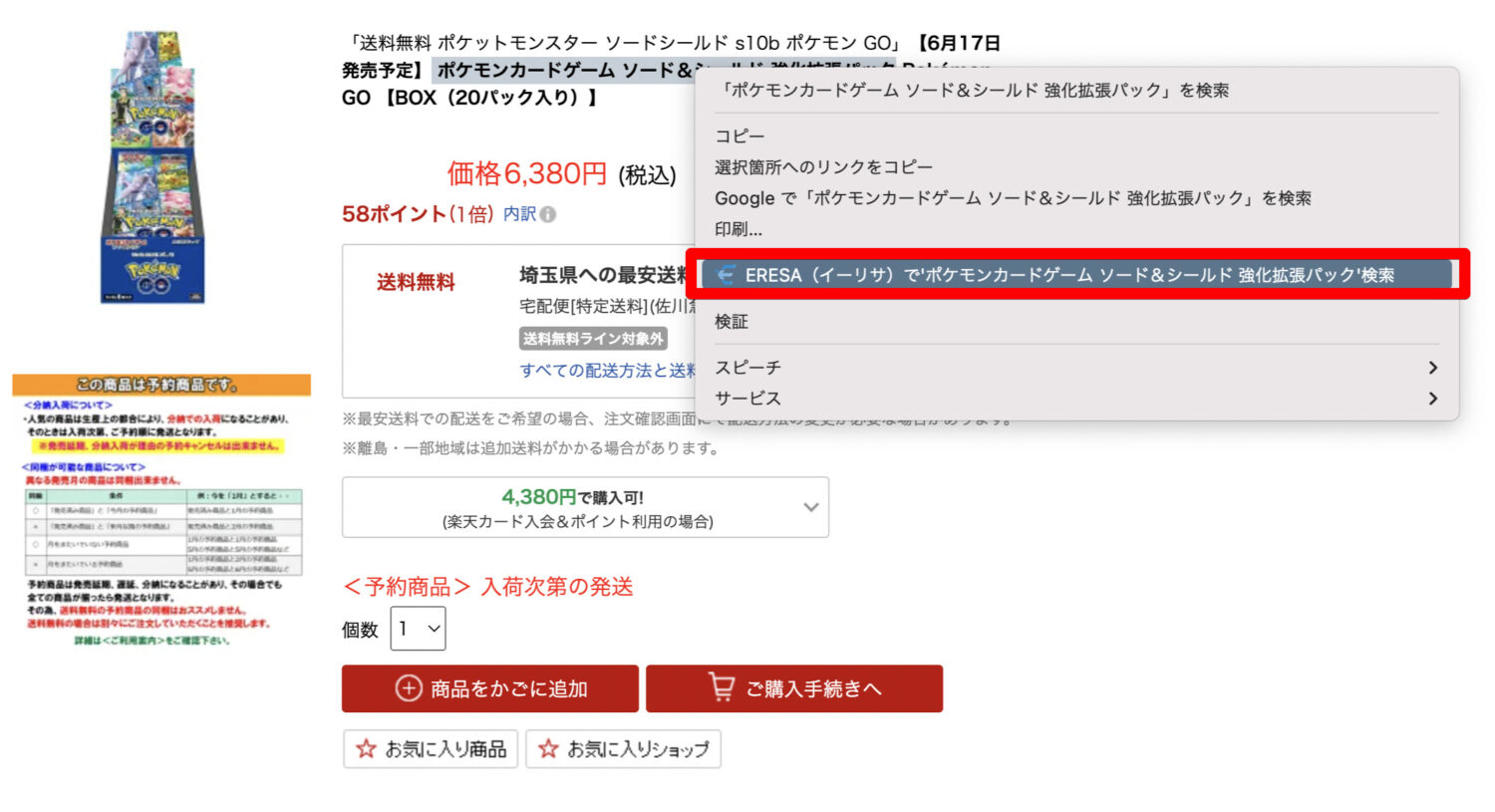 Is there any way to use the ERESA extension on my phone?
Extensions (add-ons) have many very useful functions, such as streamlining research work on Amazon, but they are only available on PCs.
However, there is actually a way to use it on your smartphone! *As of May 2022, only Android devices (smartphones, tablets, etc.) will be available.
More details are explained in the following article.
Frequently Asked Questions
The ERESA extension is no longer appearing on Amazon.

After restarting the browser, please check if the extension is enabled in the settings menu of the extension.

*If you do not see the icon for settings, click on the "puzzle icon " next to the address bar, then click on the pin icon.